Contemporary Lives of Sinti, Roma and Traveller people in Slovenia,
Italy and the UK, 2007 - 2011
Portraits of family groups in their home environments paired with written accounts from subjects own words give these subjects a voice and the viewer a feeling of their presence
The viewer gets an idea of what life is like for these people, the importance of family, their relationships and connections to one another, their strong sense of pride and feelings of loyalty to their community and cultural identity, also the very real experience of suffering prejudice and being considered outsiders in the countries they came from / live in.
Sinti in Encampment Pietraferrata, no.50, Italy
The encampment is situated in a polluted part of an industrial zone, between the Italcementi (Cement Factory), the Ferriera (Iron Factory) and refuse pyres on the outskirts of Trieste. It is crossed by a dusty road full of potholes that with the rain turn into pools of mud. There is no sanitary provisions, electricity or water. There are large colonies of rats. Sinti families were moved here by the Council over 30 years ago from the nearby Borgo San Sergio when that space was needed for the construction of a sports ground. The move was strongly contested by Community Wardens who continue to interfere with the families' lives. In 2004 the land was sold by the council to a private company planning to construct a road and two commercial centres. Immediately this made the encampment illegal. Although there is financial provision for the construction of alternative sites, the Council is yet to identify a suitable location. This hasn't stopped the families being charged with illegal habitation. To date the Courts have found the Sinti 'not-guilty' on the basis the Council have failed to provide an alternative site. There were 50 people living here in 2005. 15 people now remain.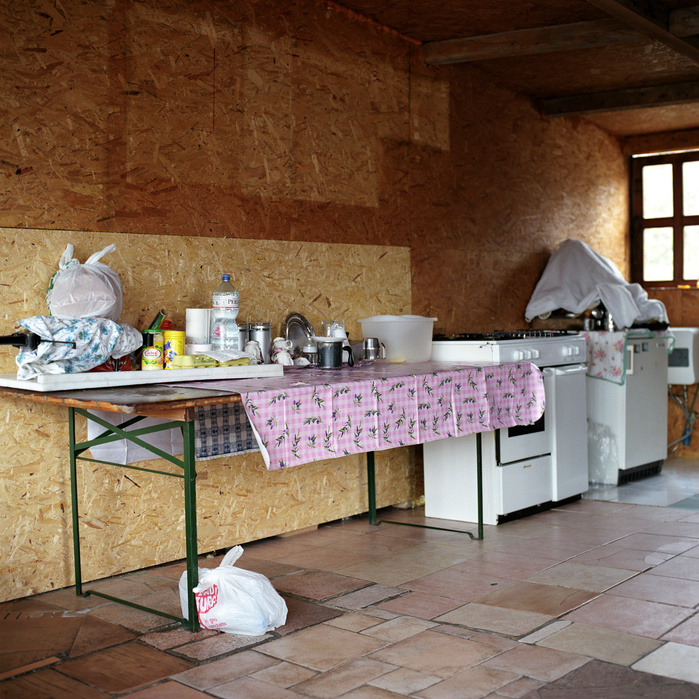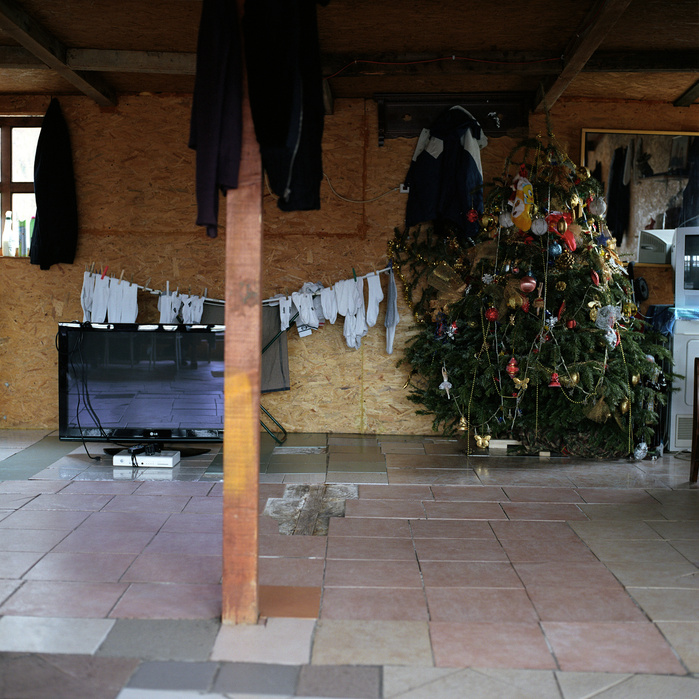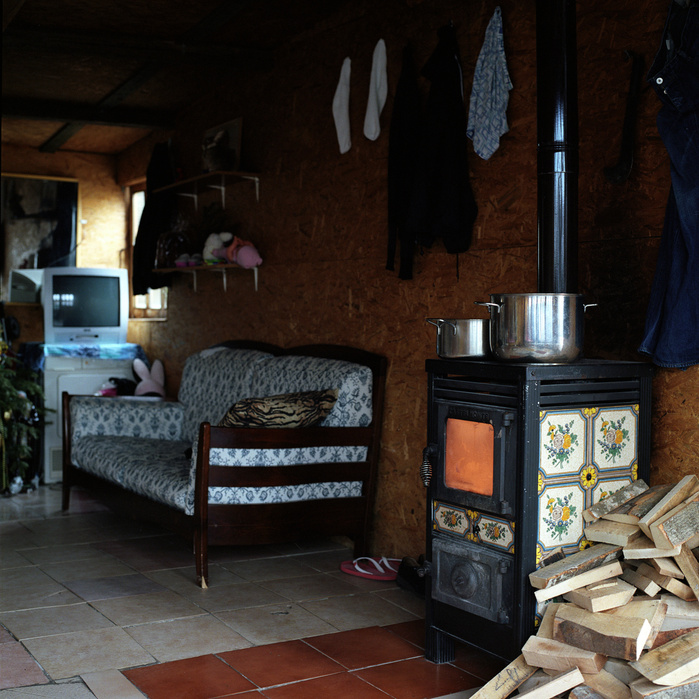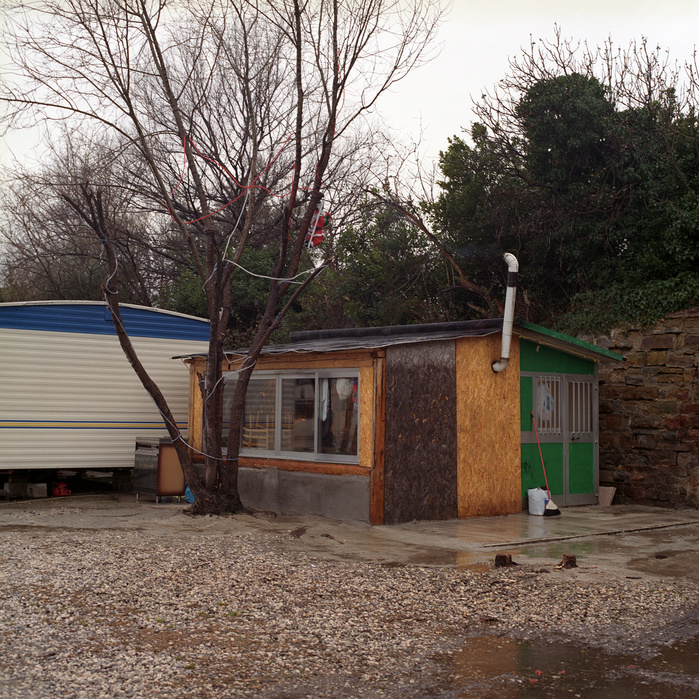 Roma in Slovenija
Officially there are 7000 Roma in Slovenija, unofficially the number is probably
more like 10,000. They live in three main areas of Slovenija: Dolenjska, Gorenjska
and Prekmurje. Each group slightly differs from the others in language (similar to Hindu, both deriving from Sanskrit) and culture.
Although Roma are Slovene nationals according to the Constitution they don't enjoy equal rights to the other Slovene nationals. For example, Roma don't have a member in parliament to defend their rights although they now have a representative on the local level.
There are high levels of unemployment amongst the Roma, one of the principal reasons being the low levels of education. In Slovenija there are no special schools
for the Roma. Children go to school along with other citizens and are often exposed to different forms of exclusion and impatience. For a lot of them the first contact with Slovene language happens in school.
In 2005 in the space of a few days there were two bombs dropped into two Roma houses. One claimed the lives of a 21 years old, school assistant and her 46
year old, mother, leaving behind three sons, absent at the time of the incident. In the other case the bomb targeting the window of a bedroom hit the windowpane
and bounced back, exploding in front of the house.
There were no deaths although Lucija Brajdic suffered cuts in her belly from the glass that exploded. I met and photographed members of this family.
In 2007 the Ambrus affair, taking its name after the Ambrus village where the Strojan family lived, took place. The Strojans, an extended family of 31 Gypsies,
14 of them children, fled their property in Ambrus, Slovenija on Oct. 28, after it was surrounded by a mob from Ambrus and nearby villages, threatening to kill them and demanding their eviction. While the police kept the crowd back, Slovenijan government officials negotiated the family's removal to a former army barracks about 30 miles away. They remain displaced. I have also met and photographed members of the Strojan family.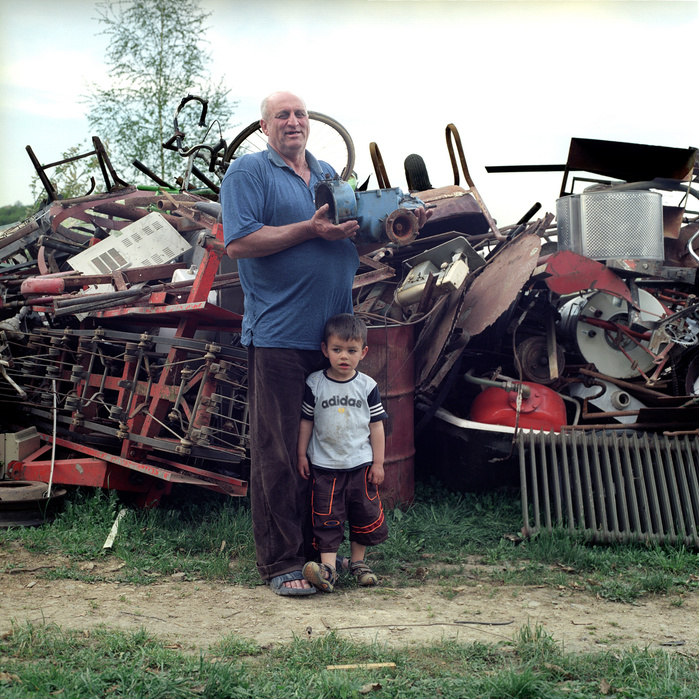 Boris Kovacic with grandson, Zabjak near Novo mesto
Birthday girl, Sentjernej near Novo mesto
Lucija Brajdic with her family, Brezje near Novo mesto
Brajdic sisters in family garden, Brezje near Novo mesto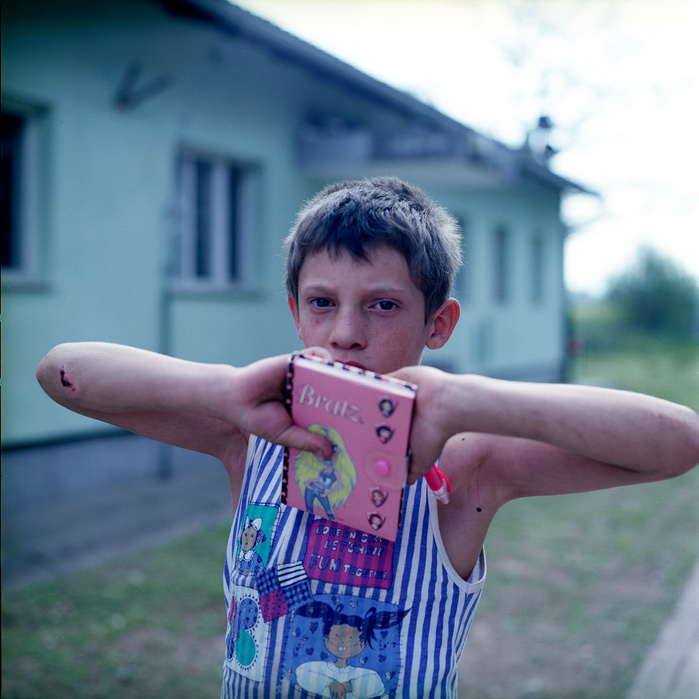 Strojan boy, Roje, temporary camp near Ljubljana
Mr Brajdic and his horse, Brezje near Novo mesto
Mrs Brajdic in her garden, Brezje near Novo mesto
Girl on the porch of Village Office, Sentjernej near Novo mesto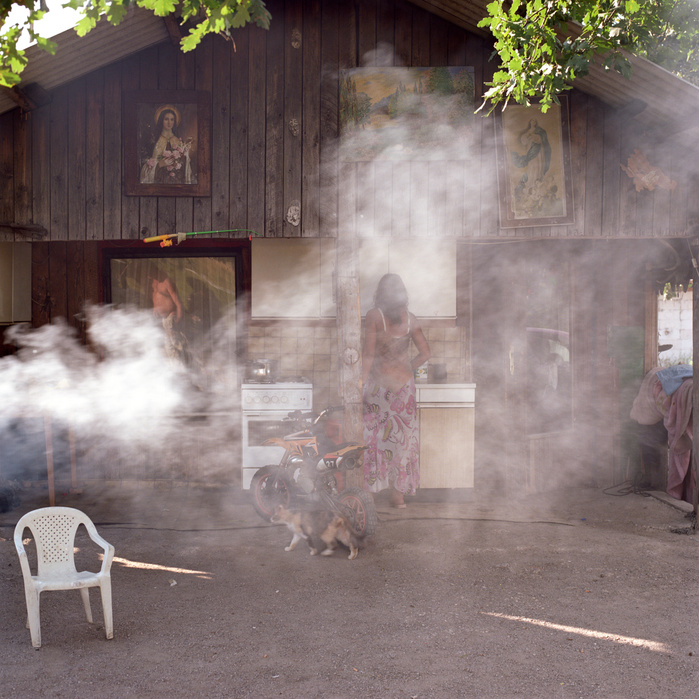 Outside kitchen, Goricka vas near Kocevje.
Outside kitchen, Goricka vas near Kocevje.
The Brezinski family, Polish Roma living in housed accomodation, Clapham, 2010
When they came to England it was the first time out of Poland for the family Brezinski. 'We didn't know the language, the place. I remember when we were coming here by coach - the countries. I was like, where are we right know? And I didn't know anything...' (Sandra) Sandra started school. 'After two years here. She waited for a long time, because we waited for a place at a girls' school. Because Sandra was twelve years old I was a little bit worried because the family and friends were talking about the behaviour in the school, the boys and you know... I worried about Sandra but Tommy and Tina started school. Yes, but we waited for the place for Sandra for a long time and after that we made the decision that she should go to the same school because she likes to learn. She didn't know the English language. It was very, very difficult. Now, I understand how people who have hearing difficulties feel....I could hear but couldn't understand. Or sometimes I sat on the stairs when the people from gas or electricity or Lambeth came. I cried because I didn't know anything.' (Mrs Brezinska) 'We got married in Poland. It was an arranged marriage. It was arranged by my grandma and his granddad, because they knew each other. He just came to our house. And he is still here.' (Sandra)

'I came here when I was one year old. I learned French in school; I know Polish, Gypsy and English. I don't like waking up at 7 o'clock, but I like my friends.' (Alan)

'Religion. Yes, because my parents you see were Jehovah Witness like me. But you know it's not the tradition with Roma. You know like me, I chose another religion for a few years after I married. The religion gives me hope. Hope in the future and life is very important for me and also for my children. My husband is still Catholic, he never was Jehovah Witness. It's not easy, especially at Christmas you know, because it's very different, but I teach my children what's in the bible, and then I give them the choice to decide for themselves after that.' (Mrs Brezinska)
(Left to right): Sandra, her brother, mother Mrs Brezinska, Sandra's child
Sandra's husband with their child
Jay at home in her caravan, Lambeth
When I was little, about ten my mum and dad split up, so then we moved up here on the site with my dad. When I was fifteen me and all my sisters lived with my dad and my mum still had my disabled sister Susanna. And when I was fifteen my mum died, she had a heart attack. She was forty.
When I was eighteen I fell pregnant with my son Ronny, but when I was three months pregnant my sister had Suzanne, she was very young, she was only sixteen. So I said that I'd look after her bëcause she ís still a kid and we didn't have a mum. And if my mum was still here my mum would have done what I did. So I have had Susanna since she was a baby, since she came out of the hospital and now she's two. And then now I have all three of the kids, I have Sherry Ann, Ronny and Susanna. And I don't treat them any different, I treat them all the same.
I wouldn't have no more kids because I don't really want them.
I finished primary school, and I went one year in high school, in Blemming high school.
My children are going to school and they're going to university and all. I want them to have good jobs because it ain't like how it used to be. I want them to have good jobs and not rely on a man and get a good education.
Travelling girls, they normally get married very young, have loads of children and depend on their husband to keep them, none of them really have jobs. When my kids go to school I'm going to college and I'm going to get some things and do something. I want to go into floristry, flowers and that, I'm into that, designing flowers.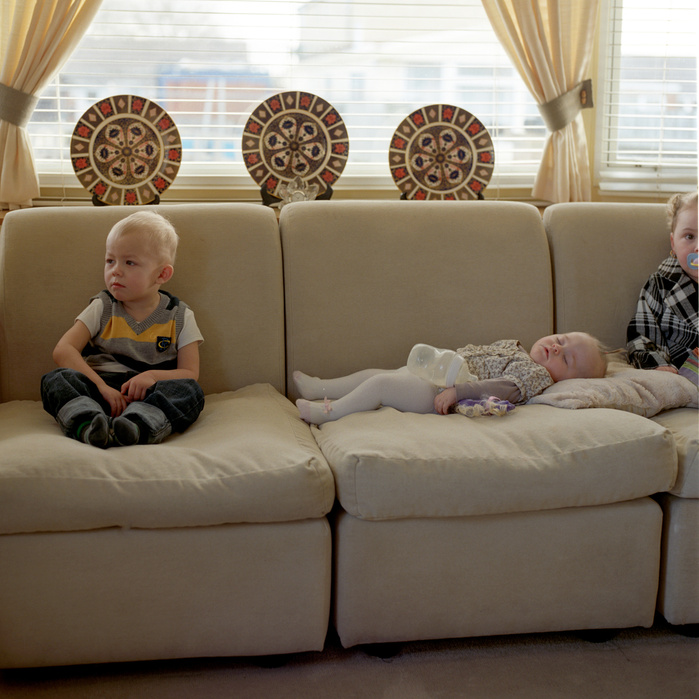 France, 2008
In 2008 France started a pogrom on allegedly illegal Romani camps. Since then it has expelled thousands of Romanian and Bulgarian Roma to their countries of origin. Bulgarian and Romanian Roma have the right to enter France without a visa because their countries form part of the EU, however French immigration rules (2010) require work or residency permit for these people to stay longer than three months.
France expelled: 10000 Roma (2009); 8300 Roma (2010); 8400 Roma (2011); 9400 Roma (2012); 19380 Roma (2013).
Since 2013 more than 170 Roma camps have been demolished.
Near a demolished Roma camp in North East Paris, 2008
Works on the demolished Roma camp, Paris 2008
Works on the demolished Roma camp, Paris 2008